General Pricing and Options 
Do you need some custom engraving done?
 Send us an email at fowlweathercustomcalls@yahoo.com with what you are looking to have engraved.  
FAQ
What Material can you laser? 
We can laser on most materials like wood, metal, leather, glass and plastic (except PVC "Poly Vinyl Chloride" gives off a toxic chloride gas when burned which is harmful to the laser and the environment.) 
What are you maximum working dimensions? 
The laser table cutting surface is 18" x 12" x 8".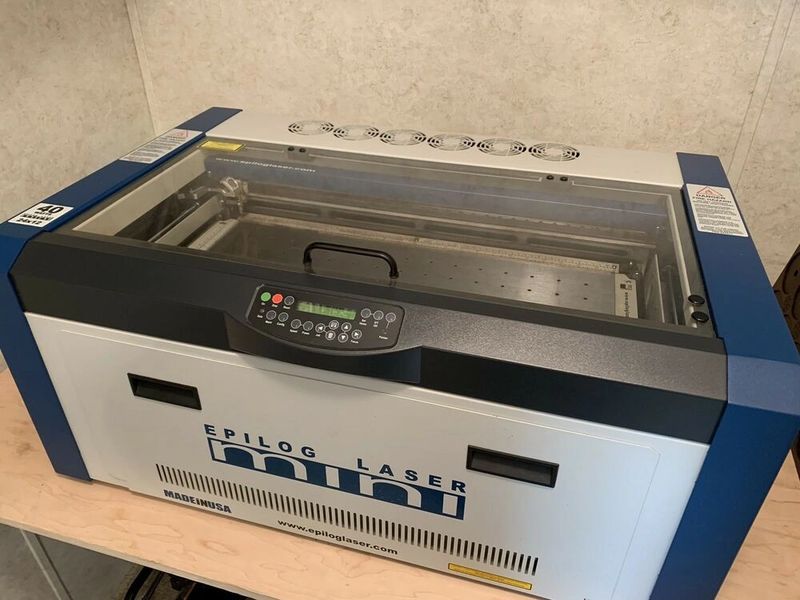 What type of file format do you require for artwork?
We can convert/import most file formats. We would prefer Vector files such as .ai or .esp. Some files will need to be cleaned up and a set up charge will be applied. Artwork for laser engraving generally needs to be clean simple black and white artwork like you would see for window decals for most projects. With that said we can do fine detail on large items. Please include your artwork files when sending an email. If you are just wanting text we have or can download any font you can find on https://www.dafont.com/
Can you laser on round objects? 
Yes, with the rotary attachments we can laser on round objects such as Tumblers, Wine Glasses, Game Calls, ect. 
Scratch Artwork Design?
We do not offer graphic design for logos, if you have a simple idea for some clipart with text we would be glad to help design the layout for this with a starting setup fee of $25 we have come out with several original designs for our customers but we are not a design company by trade. We will not use Corp Logos, Sport teams or any logo that is TM that does not belong to you. 
What drinkware do you supply? 

We work with two different company's Codova Coolers based out of Nampa Idaho is our preferred vendor for high end stainless drinkware. Please check on Cordova website on sizes and color offerings. We also use Polar Camel Drinkware from Seattle, Washington that come in a wide array of color and models. 
With that said, we will engrave any brand of coated tumbler such as Yeti, Ozark Tail, Rtic or Simply Modern. Please just make sure you are supplying cups that have a coating such as Powder Coated, Cerakote, Paint or Anodized. We will not be responsible for any damage or mistake made to customer supplied drink-ware. 
vvv Link for Cordova Drinkware vvv
Pricing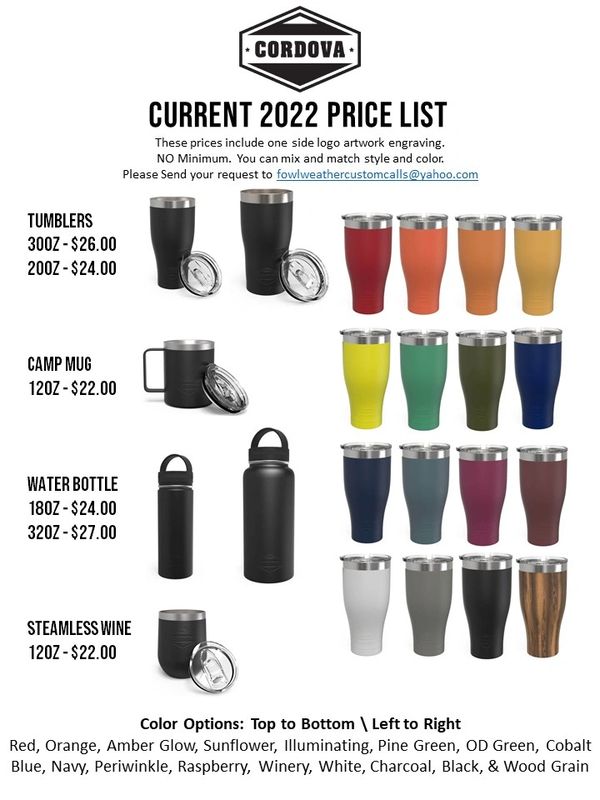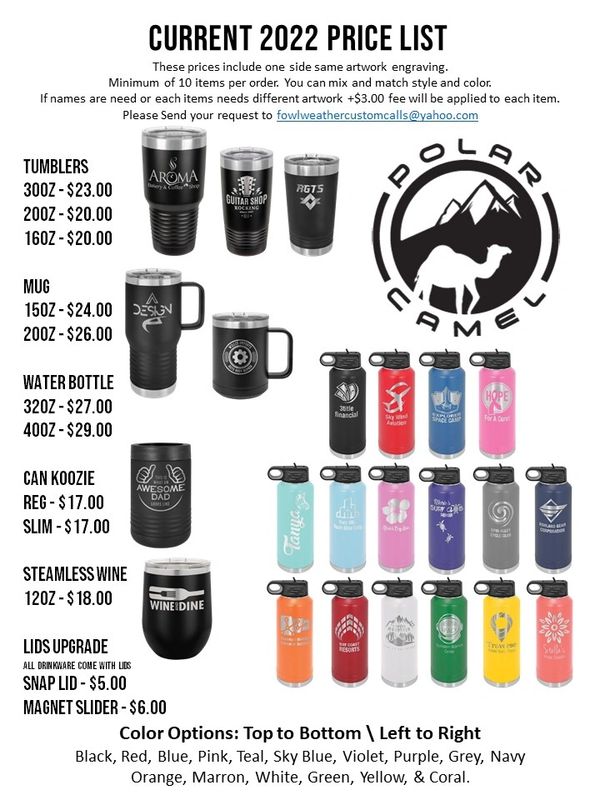 Customer Supplied Drinkware:
Custom "One Off" Text or Logo Coated Tumblers $10.00 each with customer supplied drinkware
High Volume 10+ items (Text/Logo)  $1.00 per laser min (normally 5min) 
Extra charges will be applied on "High Volume Orders" if custom text or size changes are needed for Project. 
We do offer discounts to Schools, Sports Clubs and Non Profit Organizations. 
If you are out of the Area (Treasure Valley) and shipping will be needed please be aware that shipping large quantity of tumblers is very expensive as we do not have the shipping price power in our business. On avg a case of tumblers (24ct) shipped across the country can cost up to $75 to $90 with UPS, USPS and FEDEX. 


  

  

  

  

Glass 1 - 10  each $10.00 / 10+ $1.00 per laser min (normally 1 to 2 min)
We have Pint Beer Glasses, Shot Glasses, and Wine Glasses on hand or you can supply. We also can do flat glass for projects you may be working on. 
  



Game Call Engraving 
We purchased our laser to do our own calls but from time to time we help support our fellow call makers with requests they are being asked for. Generally we are not looking to do high volume production work so our pricing is as follows: 
1 - 10 call barrels $2.50 each
11 - 20 $2.25 each
21 + $2.00 each
Color fill can be provided for extra charge. A one time set up charge of 10.00 for a custom mandrill to be made for each model of call you supply will be applied for any new call engraving we do.  


Other Items email or call for pricing
We can engrave on all types of materials or objects such as Knives, Guns, Bow Grips, and Leather 
Pocket Knives $ 5.00 each 
Guns $10 to $20 All Firearm Parts that have the Serial Numbers can not be shipped or dropped off. All engraving will need to take place with the owner on site.  (we charge more because we test run everything before we do any real engraving)
Bow Grips $ 5.00 each (lots of patterns on hand)